BBQ Chicken Skewer Salad – Recipe and Instructions
This BBQ chicken skewer salad is perfect for a light lunch or dinner. The combination of smoky grilled chicken, crisp vegetables, and tangy BBQ sauce creates a flavorful and satisfying meal. Give this recipe a try and impress your family and friends with this delicious dish!
Ingredients:
The Chicken skewers:
2 pounds boneless skinless chicken breasts
3 tbsp avocado oil
1 tsp kosher salt
2 cups barbecue sauce
8 [6-inch] wooden skewers pre-soaked
The Herby ranch:
1 cup light tasting oil. I use avocado oil.
1 egg (omit if using store-bought mayonnaise)
½ cup unsweetened full fat coconut milk
2 tbsp lemon juice
1 tbsp red wine vinegar
1 tsp kosher salt
1 tsp onion powder
2 cloves minced garlic
¼ cup finely chopped fresh dill fronds
¼ cup finely chopped fresh parsley
1 tsp freshly cracked black pepper
The Salad:
4 ears corn *omit for Whole30
2 tbsp avocado oil
8 cups sliced ​​romaine lettuce
6 green onions, sliced ​​(green part only)
2 cups currant tomatoes, quartered or 16 ounces
1 can 15 oz black beans, drained and rinsed *skip Whole30
¼ cup chopped fresh cilantro leaves, loosely wrapped
2 tablespoons chopped fresh basil leaves
1 avocado, peeled, seeded and medium diced
Instructions:
marinate the chicken:
Using a meat mallet or heavy pan bottom, mash chicken until evenly ½ inch thick. Cut into 2-inch pieces and place in a large bowl with the oil, salt, and 1 cup barbecue sauce. Stir until evenly mixed. Marinate for at least 20 minutes at room temperature, or cover and refrigerate for 4-8 hours to chill and marinate longer if desired.
make the herby-ranch:
Pour the oil into a wide-mouthed jar (just slightly larger than the mouth of an immersion blender). Crack the eggs into the oil and let them sink to the bottom of the pot. Place the hand blender in the bowl and place the blade over the yolk. Do not move the tip until a thick, creamy white mayonnaise is formed on the bottom of the head – at least about 10 seconds. Now slowly lift the immersion blender up and down until the whole jar is emulsified into mayonnaise. (*Alternatively, you can use a cup of store-bought mayonnaise. I only recommend very mild flavored ones).
Add coconut milk, lemon, red wine vinegar, salt, onion powder and garlic, and then using a hand blender, mix again. Stir in cumin, parsley, and black pepper. Refrigerate before use.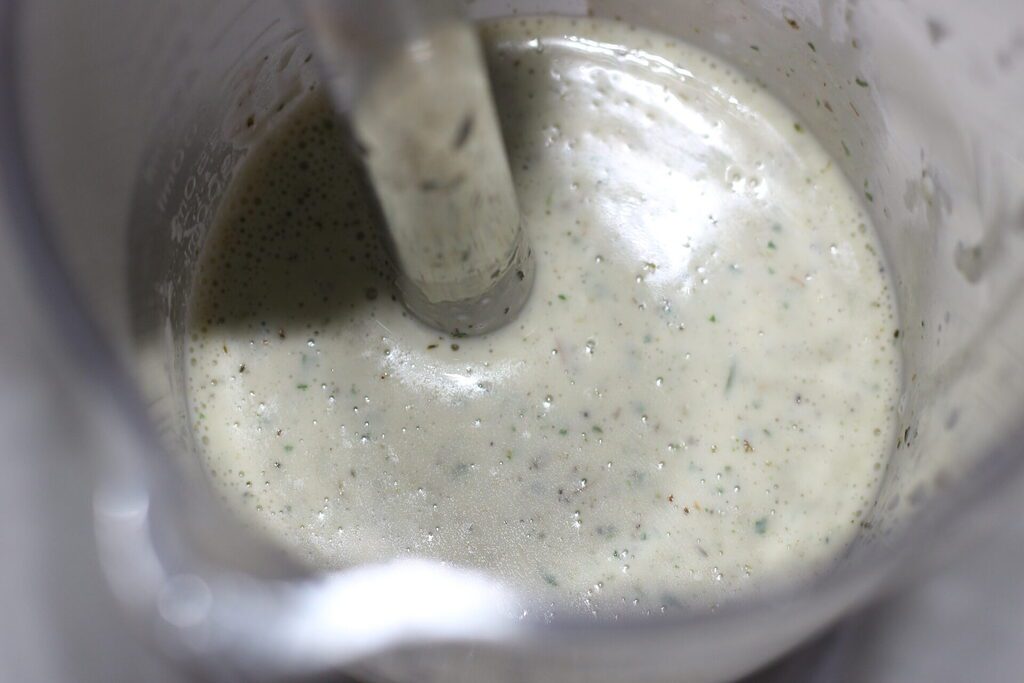 Grill the chicken and make the salad:
Sprinkle corn with avocado oil and rub to coat evenly.
Preheat the oven to medium-high (350-400 degrees F) and grease the griddle (to do this, dip a cotton ball in a little oil and use tongs to wipe the oil evenly on the griddle. Be careful not to overheat the oven. Use too much oil, as that's a surefire way to get a good flame – a small amount is enough here.)
When hot, add corn and cook until tender, about 10-12 minutes total, turning every 2 minutes. Meanwhile, also place the skewers on the griddle and bake the first side for 3 to 4 minutes or until nice grill marks form. Flip the skewers then spread the grill with the reserved barbecue sauce on the grill. Continue cooking until chicken is cooked through and forms nice charred marks on both sides, 3 to 4 minutes more. Keep the grill door closed as much as possible while cooking the chicken.
Meanwhile, in a large bowl, mix lettuce, scallions, tomatoes, black beans, cilantro, and basil. Add the desired amount of dressing to the salad and stir until the lettuce is evenly coated.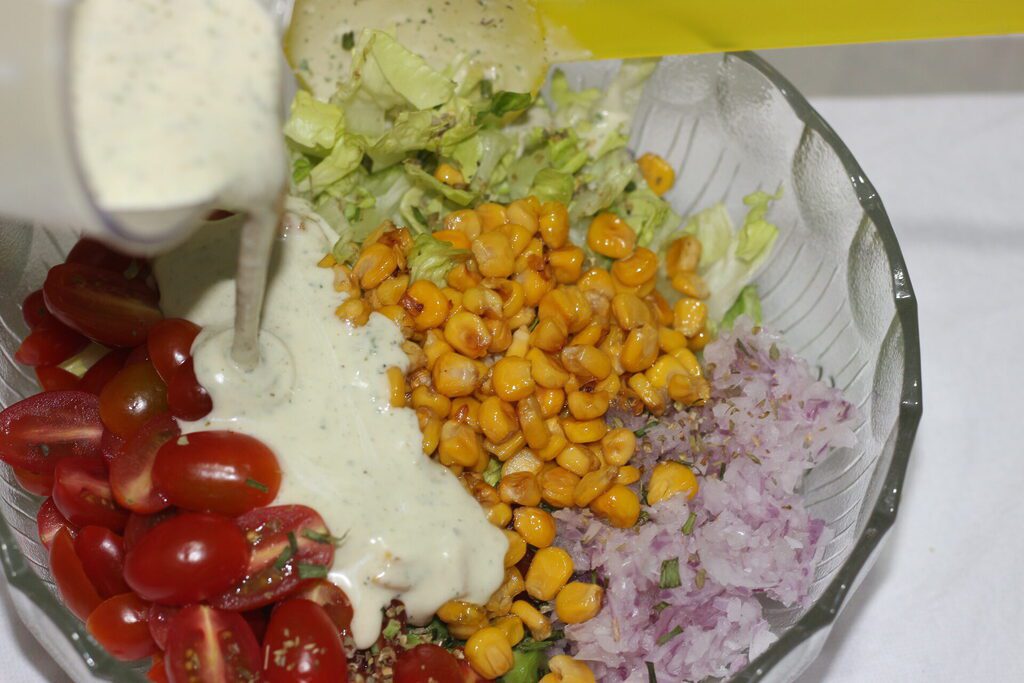 Remove the corn from the cobb and add to the salad along with the diced avocado, gently toss once more to combine.
Note:
Feel free to customize this salad by adding your favorite vegetables or dressing. You can also serve it with a side of bread or grilled corn for a complete meal.
Exploring the Delights of BBQ Chicken Skewer Salad
BBQ chicken skewer salad is a delightful dish that combines the smoky flavors of grilled chicken with the freshness of a garden salad. It's a perfect choice for cook lovers who appreciate the simplicity and versatility of BBQ cooking. We will delve into the world of BBQ chicken skewer salad, providing you with tips to create a delicious and satisfying meal. Additionally, we will explore some creative variations to add a unique twist to your salad.
Tips and Variations
Perfecting the Grilled Chicken Skewers
The hero of this dish is undoubtedly the succulent grilled chicken skewers. We will share expert tips on marinating the chicken, grilling techniques, and achieving that perfectly charred exterior while ensuring the meat remains tender and juicy on the inside.
Crafting the Garden Salad Base
While the focus is on the BBQ chicken skewers, the accompanying garden salad plays a crucial role in balancing flavors and adding freshness. We will explore various leafy greens, vibrant vegetables, and complementary dressings to create a harmonious blend with the grilled chicken.
Elevating Your BBQ Chicken Skewer Salad
For those looking to take their BBQ chicken skewer salad to the next level, we have some exciting variations to share. From incorporating grilled fruits for a sweet and tangy twist to experimenting with different marinades and seasonings, this section will inspire you to get creative with your salad.
Conclusion:
BBQ chicken skewer salad is a versatile and delicious dish that brings together the smoky flavors of grilled chicken and the refreshing crispness of a garden salad. By following the tips provided in this blog post, you can create a mouthwatering meal that will impress your guests or satisfy your own culinary cravings. Whether you stick to the classic recipe or venture into creative variations, the BBQ chicken skewer salad is sure to become a favorite in your kitchen.
---
Cuisine: American
Prep Time: 20 min
Cook Time: 15 minutes
Servings: 4 people