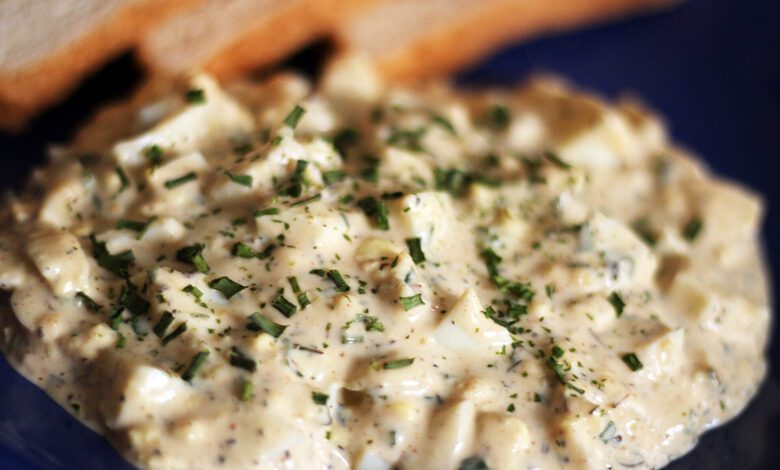 Egg Salad– the perfect salad for a picnic or backyard BBQ
Try this Egg Salad full of the delicious flavor that you love
The Versatility and Simplicity of Egg Salad
Egg salad is a conventional dish that has been loved for generations. This simple yet versatile recipe combines the creaminess of hard-boiled eggs with a medley of flavors to create a satisfying and nutritious meal. Whether served between two slices of bread, as a topping for crackers, or as a side dish, egg salad never fails to hit the spot.
Variations of Egg Salad
One of the high-quality matters approximately Egg Salad is its versatility. You can personalize it to fit your flavor and nutritional preferences. For a healthier version, you can substitute mayonnaise with Greek yogurt or avocado. This not only reduces the calorie content but also adds a creamy texture and a subtle tang. If you're looking for a spicier kick, you can add a touch of hot sauce or sprinkle some paprika. For a unique twist, consider adding chopped bacon, shredded cheese, or even diced avocado for an extra burst of flavor.
Classic Egg Salad Recipe
Ingredients
1. Eggs: Start with six hard-boiled eggs. Ensure that the eggs are fully cooked and cooled before proceeding with the recipe. Hard-boiled eggs provide the base for the salad and give it a rich and creamy texture.
2. Mayonnaise: To bind the ingredients together and add a creamy element to the Egg Salad, use half a cup of mayonnaise. Adjust the quantity based on personal preference for creaminess.
3. Dijon Mustard: For a tangy and slightly spicy flavor, add one tablespoon of Dijon mustard. This element enhances the creaminess of the mayonnaise and provides intensity to the general taste.
5. Celery: Finely dice one stalk of celery to introduce a refreshing and crispy element to the Egg Salad. The celery not only adds texture but also provides a burst of freshness.
6. Salt, Pepper, onion powder, garlic powder, paprika : These seasonings enhance the flavors and add a necessary balance to the dish.
Instructions
1. Prepare the Hard-Boiled Eggs: Place the eggs in a saucepan and cover them with cold water. Bring the water to a boil over medium-excessive heat. Once boiling, reduce the heat to low and let the eggs simmer for about 9-12 minutes. Remove the eggs from the heat and place them in cold water to cool completely. Chop the peeled eggs into small pieces.
2. In a mixing bowl, combine the chopped hard-boiled eggs, mayonnaise, Dijon mustard, finely chopped onion, and diced celery. Stir lightly till all of the elements are properly incorporated.
3. Add seasonings to the egg salad mixture according to your preference. Start with a pinch of each and adjust as needed.
4. Once the salad is thoroughly mixed and seasoned, it is ready to be enjoyed.
Serving Ideas
Egg salad can be enjoyed in a variety of ways. The most common way to serve it is as a sandwich filling. Spread a generous amount of the salad between two slices of bread, add some lettuce or spinach for freshness, and you have a delicious sandwich ready to go. You can also serve it as a dip with crackers or raw vegetables, making it a perfect addition to any party or gathering. Another option is to serve it on a bed of lettuce or mixed greens for a refreshing and light salad. The possibilities are endless!
Helpful Tips for Perfect Egg Salad
– Use fresh, amazing eggs for excellent results.
– To acquire flawlessly boiled eggs, region them in a pot of bloodless water and produce to a boil. Once boiling, lessen the warmth and allow them to simmer for approximately 9-12 minutes.
– To make the peeling process easier, shock the boiled eggs in ice water for a few minutes before peeling.
– Experiment with different seasonings and herbs to personalize your egg salad according to your taste preferences.
– Allow the egg salad to chill in the refrigerator for at least 30 minutes before serving. This will enhance the flavors and give the ingredients time to meld together.
---
Cuisine: American
Prep Time: 5 min
Cook Time: 15 minutes
Servings: 3-4 people