Buffalo Chicken Pasta
Buffalo Chicken Pasta
Buffalo Chicken Pasta: A Spicy Twist on a Classic Dish
Buffalo chicken Pasta has become a popular flavor in the culinary world, and it's no surprise why. The combination of tangy hot sauce and creamy dressing creates a unique and irresistible taste. Furthermore, you can savor this flavor profile not only in wings and sandwiches but also in a delightful pasta dish.
It is the perfect marriage of spicy and creamy, with a hint of tanginess that will keep you coming back for more. Typically, the dish consists of cooked pasta, sautéed chicken, and a creamy buffalo sauce. Additionally, toss the pasta in a mixture of melted butter and hot sauce to create a flavorful base for the dish. Furthermore, this step adds a delightful taste to the overall preparation.
Ingredients:
1 large boneless, skinless chicken breast, equivalent to 1 lb.
½ cup blue cheese sauce, canned
2 Tablespoons butter, divided
½ cup yellow onion, diced
1 stick celery, diced
3 cloves garlic, minced
14.5 oz. diced tomatoes, undrained, (1 can)
4 cups chicken broth
1 lb. penne
1/2 cup buffalo sauce
8 oz. cream cheese, softened and cubed
1.5 cups cheddar, shredded
1 cup mozzarella, shredded
1 pinch red pepper flakes, optional
2 tablespoons cold butter, optional
Instructions:
To make buffalo chicken pasta, start by cooking your preferred pasta according to the package instructions. During the pasta is cooking, heat a skillet over medium heat and add some oil. Season boneless, skinless chicken breasts with salt and pepper, then cook them in the skillet until they are no longer pink in the center.Remove the chicken from the pan and let it rest for a few minutes before slicing it into strips.
In the same skillet, melt some butter and add hot sauce, adjusting the amount to your desired level of spiciness. Stir the mixture until well blended and hot. Afterward, add cooked pasta to the skillet and toss it in the buffalo sauce until it is evenly coated.
Next, add the sliced chicken to the skillet and toss it with the pasta. Additionally, if desired, you can incorporate extra ingredients, such as diced celery or crumbled blue cheese, to enhance the flavor and texture of the dish. Once everything is well-mixed, subsequently remove the skillet from the heat and serve the buffalo chicken pasta hot.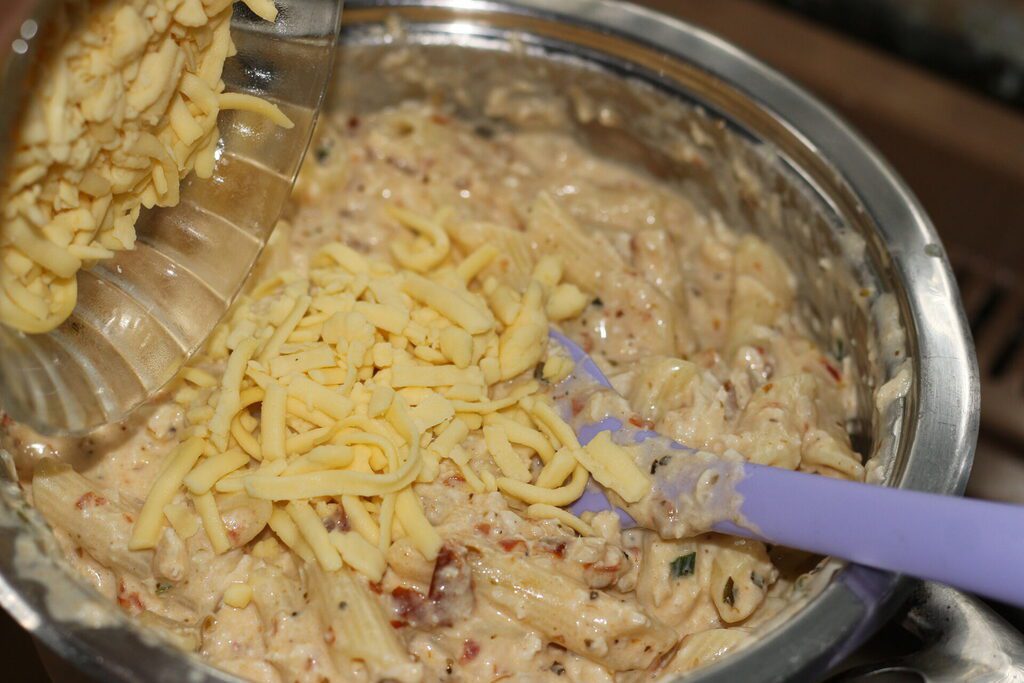 The result is a dish that is both pleasant and satisfying. Furthermore, the heat from the hot sauce is perfectly balanced by the creaminess of the sauce, creating a mouthwatering combination. Additionally, the tender chicken and al dente pasta add texture to each bite, making it a truly enjoyable experience.
Buffalo chicken pasta is a versatile dish that can be customized to suit your preferences
This Pasta is a popular and delicious dish that combines the bold flavors of buffalo chicken with the comforting goodness of pasta. Moreover, it is a versatile dish that can be customized in various ways to suit different tastes and preferences.
1. The Classic
This is the traditional version of the dish that most people are familiar with. First, it consists of cooked pasta, chunks of tender chicken tossed in buffalo sauce, and a creamy cheese sauce. The combination of spicy buffalo sauce and creamy cheese creates a mouthwatering flavor profile that is hard to resist.
2. The Spicy Ranch
If you are a fan of ranch dressing, this variation is for you. Firstly, simply mix some ranch dressing with buffalo sauce to create a tangy and creamy sauce. Then, toss it with cooked pasta and buffalo chicken for a flavor explosion that will leave you craving for more.
3. The Alfredo Pasta
For a twist on the traditional Alfredo pasta, add some buffalo chicken to the mix. Prepare a classic Alfredo sauce with butter, cream, and Parmesan cheese, and then toss it with cooked pasta and buffalo chicken. The creamy and cheesy Alfredo sauce balances out the spiciness of the buffalo chicken, creating a perfect harmony of flavors.
4. Buffalo Chicken Mac and Cheese
Combine two ultimate comfort foods – buffalo chicken and macaroni and cheese – into one irresistible dish. Begin by preparing a creamy cheese sauce with your favorite cheeses and then toss it with cooked macaroni and buffalo chicken. As a result, you'll get a rich and indulgent dish that will satisfy all your cravings.
5. The Salad
If you prefer a lighter option, try making the salad. Cooked pasta, buffalo chicken, and a variety of fresh vegetables are tossed together with a tangy buffalo sauce dressing. This refreshing and zesty salad is perfect for picnics, potlucks, or as a side dish for grilled meats.
6. Buffalo Chicken Stuffed Shells
Stuff cooked pasta shells with a mixture of buffalo chicken, ricotta cheese, and spices. Top them with marinara sauce and bake until the shells are golden and the cheese is bubbly. This unique twist on Buffalo Chicken Pasta will impress your family and friends.
It is a delicious and flavorful twist on a classic dish. It combines the tangy and spicy flavors of buffalo chicken with the creamy goodness of pasta. Whether you're a fan of buffalo chicken or just looking to try something new, this dish is sure to satisfy your taste buds.
Cuisine: American
Prep Time: 20 min
Cook Time: 30 minutes
Servings: 5 people