Loaded Chicken Baked Potatoes
Loaded Chicken Baked Potatoes: My latest culinary creation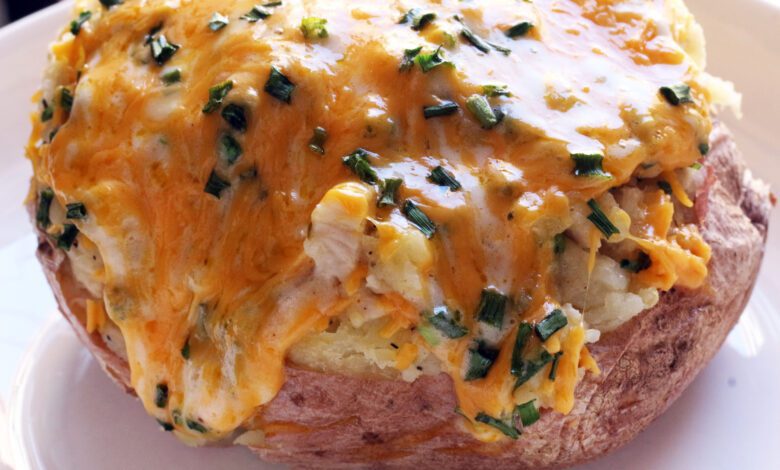 Loaded Chicken Baked Potatoes: A Delicious Twist to a Classic Dish
Loaded Chicken Baked Potatoes: My latest culinary creation
Potatoes are a staple in many cuisines around the world, and one of the most popular ways to enjoy them is by baking them. Baked potatoes are not only easy to prepare, but they also offer a myriad of flavors and toppings that can be customized to suit individual preferences. In this blog post, we will explore the wonders of baked potatoes and provide you with some mouthwatering ideas to elevate your potato game.
Loaded Chicken Baked Potatoes are a mouthwatering and satisfying meal that takes the traditional baked potato to a whole new level. Packed with flavor and loaded with toppings, these potatoes are the perfect combination of comfort food and gourmet cuisine. Whether you're looking for a quick and easy weeknight dinner or a crowd-pleasing dish for a gathering, Loaded Chicken Baked Potatoes are sure to impress.
baked potatoes and seasoned chicken! Why not give it a try and enjoy the delightful combination?
Loaded Chicken Baked Potatoes are a delicious and filling meal that combines the classic flavors of baked potatoes with the savory goodness of seasoned chicken. This dish is perfect for a cozy dinner at home or as a crowd-pleasing option for a potluck or gathering. In this blog post, we will explore the simple steps to prepare this mouthwatering dish and share some creative ideas for toppings and variations.
To make Loaded Chicken Baked Potatoes, you will need the following ingredients
– 4 large baking potatoes
– 1 tablespoon olive oil
– 2 boneless, skinless chicken breasts
– 1 teaspoon garlic powder
– 1 teaspoon paprika
– Salt and pepper, to taste
To create this delectable dish, follow the Instructions below:
First stage
1. Preheat your oven to 400°F (200°C). With a paper towel, pat the potatoes dry after they have been scrubbed clean. Pierce The potato several times with a fork in order to let steam escape during baking.
2. TPlace the potatoes directly on the oven rack and bake for approximately 45-60 minutes, or until the skin is crispy and the inside is tender when pierced with a fork.
3. While the potatoes are baking, prepare the chicken. Cut the chicken breasts into bite-sized pieces and season them with garlic powder, paprika, salt, and pepper.
4. Heat olive oil in a large skillet over medium-high heat. 5-7 minutes later, add the seasoned chicken and cook until it is browned and cooked through. Remove from heat and set aside.
5. Once the potatoes are done baking, carefully remove them from the oven using oven mitts. After the chicken has been seasoned, cook it for 5-7 minutes until it has browned and is cooked through.
Second Stage
6. Cut a slit lengthwise in the top of each potato, being careful not to cut all the way through. Gently press the ends of the potato towards the center to create an opening for the toppings.
7. Fill each potato with a generous amount of the cooked chicken. You can also add shredded cheese, sour cream, bacon bits, green onions, or any other toppings of your choice.
8. Place the loaded potatoes back in the oven for about 5 minutes, or until the cheese has melted and the toppings are heated through.
9. Remove the potatoes from the oven and let them cool for a few minutes before serving. The loaded chicken baked potatoes are now ready to be enjoyed!
Tricks
What sets these Loaded Chicken Baked Potatoes apart is the attention to detail. Bake each potato carefully to perfection, ensuring that ideal combination of a crispy skin and a fluffy interior. Marinate the chicken with flavorful herbs and spices, creating a mouthwatering taste that complements the potato beautifully.
To make these delectable Loaded Chicken Baked Potatoes even more irresistible, I've added a variety of toppings to choose from. From crispy bacon bits to fresh chives, you can customize your potato to suit your taste buds. It's all about creating a culinary experience that brings joy with every bite.
In addition to being delicious, baked potatoes also offer nutritional benefits.Vitamin C, potassium, and fiber are all found in them. By incorporating them into your diet, you can enjoy a filling and nutritious meal that satisfies your taste buds and nourishes your body.
TIPS to add creativity to your special dish
Variations
While the classic loaded chicken baked potatoes are already delicious on their own, you can also get creative with different variations:
Mexican-inspired: Top the potatoes with salsa, guacamole, and shredded cheddar cheese for a zesty twist.
BBQ chicken: Drizzle your favorite BBQ sauce over the chicken and add some caramelized onions for a smoky and sweet flavor.
Mediterranean-style: Add diced tomatoes, feta cheese, olives, and a dollop of tzatziki for a Mediterranean-inspired twist.
Loaded Chicken Baked Potatoes are a versatile and satisfying meal option that can be customized to suit your taste preferences. Whether you stick to the classic toppings or try out different variations, this dish is sure to be a hit.
You can customize the toppings to suit your preferences and dietary needs. For a healthier option, you can use low-fat cheese and turkey bacon. Additionally, you can add a variety of vegetables, such as broccoli or bell peppers, to boost the nutritional value of the dish.
Whether you're a chicken lover or a potato enthusiast, Loaded Chicken Baked Potatoes are sure to satisfy your cravings. Don't hesitate to try this simple yet flavorful dish for your next meal. Your taste buds will thank you!
Cuisine: American
Prep Time: 15 min
Cook time : 10 minutes
Servings: 2 people