SOUTHWESTERN CHOPPED SALAD WITH CILANTRO
Southwestern Chopped Salad with Cilantro-Lime Dressing Recipe:
This refreshing and vibrant Southwestern Chopped Salad with Cilantro is a perfect blend of flavors and textures. Moreover, the zesty cilantro-lime dressing adds a burst of freshness to the dish.
Ingredients: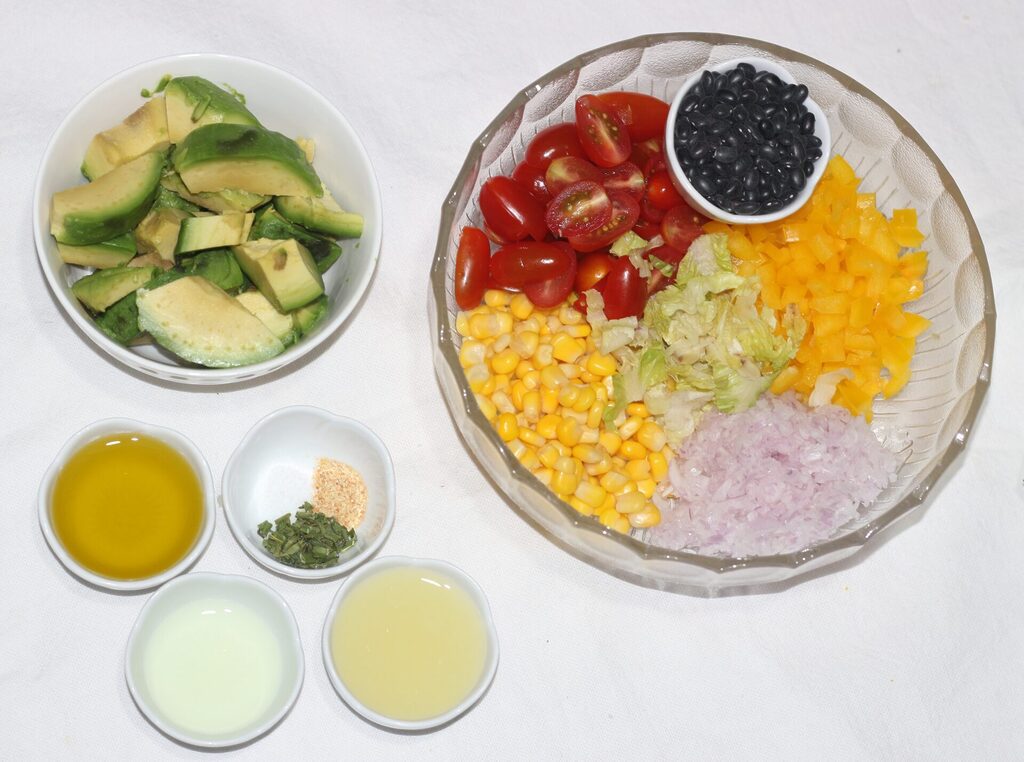 1 large head romaine
15 oz. can black beans
1 orange bell pepper
10 oz. cherry / grape tomatoes (about 1 pint)
2 cups sweet corn, cooked
5 green onions
For the creamy cilantro-lime dressing:
1 cup loosely packed cilantro (stem removed and finely chopped).
1/2 avocado (or 1/2 cup vegan yogurt)
2 Tbsp. fresh lime juice (about 1 lime, more to taste)
1-2 garlic cloves
3 Tbsp. olive oil (for the non-oily type, add a little water to dilute)
1 1/2 tsp. white wine vinegar
1/8 tsp. salt
Instructions to make the best Southwestern Chopped Salad with Cilantro
Prepare the Dressing: In a blender or food processor, combine the cilantro, Greek yogurt, lime juice, olive oil, garlic, honey (or agave), salt, and pepper. Blend until smooth. Taste and adjust seasoning as needed. Set aside.
Assemble the Salad: In a large salad bowl, combine the chopped salad greens, black beans, corn, cherry tomatoes, red onion, red bell pepper, avocado, and cotija cheese (or feta). Additionally, ensure that the ingredients are evenly distributed for a balanced combination of flavors.
Drizzle the Dressing: Pour the cilantro-lime dressing over the salad ingredients.
Garnish and Serve: Sprinkle the chopped cilantro over the salad for an extra burst of flavor and color. Additionally, if desired, add optional toppings like tortilla strips, grilled chicken, or roasted corn to enhance the overall experience.
Tips to get a better Southwestern Chopped Salad with Cilantro
Fresh Ingredients: Whenever possible, use fresh ingredients for the best flavor and texture. However, frozen corn or canned beans can be used as convenient alternatives.
Customize: Feel free to customize the salad by adding ingredients like chopped green onions, diced mango, jicama, or roasted red peppers.
Avocado: To prevent the avocado from browning, toss it with a little lime juice before adding it to the salad.
Protein Options: Make the salad a complete meal by adding protein like grilled chicken, shrimp, or tofu.
Tortilla Strips: To make homemade tortilla strips, slice corn tortillas into thin strips, toss with a little oil and seasonings, and bake in the oven until crispy.
Make-Ahead: You can prepare the dressing and chop the salad ingredients in advance, but it's best to assemble the salad just before serving to keep the ingredients fresh and crisp.
Serving: Serve the salad as a main course for lunch or as a side dish for dinner. It is also ideal for light meals and picnics.
Variation Ideas:
Grilled Corn and Mango Salad: Add grilled corn and diced mango to the salad for a sweet and smoky twist.
Tex-Mex Taco Salad: Incorporate seasoned ground beef or turkey, crushed tortilla chips, and a dollop of sour cream for a Tex-Mex twist.
Avocado-Lovers Salad: Double up on the avocado for a creamy and luxurious texture.
Southwest Quinoa Salad: Add cooked quinoa for an extra protein boost and hearty texture.
Spicy Kick: Add diced jalapeño or a sprinkle of chili powder for some heat.
Feel free to get creative and alter the recipe to your liking. Furthermore, the Southwestern chopped salad is a versatile dish that can be customized to suit different tastes and dietary needs.
The Southwestern Chopped Salad with Cilantro-Lime Dressing offers a variety of nutritional and taste benefits
1. Nutrient-Rich Ingredients of the Southwestern Chopped Salad with Cilantro
The Southwestern Chopped Salad with Cilantro includes a mix of fresh and colorful vegetables like lettuce, bell peppers, cherry tomatoes, and red onions, providing a range of vitamins, minerals, and antioxidants that support overall health.
2. High Fiber Content:
Black beans and corn are excellent sources of dietary fiber. Additionally, fiber aids in digestion, helps maintain healthy cholesterol levels, and promotes a feeling of fullness, which can assist in managing weight.
3. Healthy Fats:
Avocados are rich in heart-healthy monounsaturated fats. Moreover, these fats are beneficial for cardiovascular health and can help lower bad cholesterol levels.
4. Lean Protein:
If you add grilled chicken or other protein sources, the salad becomes a well-rounded meal with essential amino acids for muscle maintenance and repair.
5. Low-Calorie Option:
The salad is naturally low in calories and can be a satisfying choice for those looking to control their calorie intake while still enjoying a flavorful meal.
6. Southwestern Chopped Salad with Cilantro's Nutritional Value:
Cilantro is a source of vitamins A and K and contains antioxidants that may have anti-inflammatory properties. Additionally, its distinctive flavor adds a burst of freshness to the dish.
7. Flavorful Dressing:
The cilantro-lime dressing is made with Greek yogurt, which adds a creamy texture and a boost of protein. The lime juice provides vitamin C, while cilantro contributes antioxidants.
8. Customizable:
The salad can be tailored to accommodate various dietary preferences or restrictions. Furthermore, it's suitable for vegetarians and can be made vegan by omitting the cheese or using a plant-based alternative.
9. Hydration:
Vegetables like lettuce and tomatoes have high water content, helping to keep you hydrated.
10. Refreshing and Delicious:
The combination of fresh vegetables, zesty dressing, and optional toppings like tortilla strips creates a harmonious blend of flavors and textures that's both satisfying and refreshing.
11. Promotes Satiety:
The combination of fiber-rich ingredients, healthy fats, and protein can help keep you feeling full and satisfied after your meal.
Remember, the nutritional content of the salad may vary based on the specific ingredients and portions used. Furthermore, to make the most of these benefits, aim for a balanced and varied diet that includes a wide range of nutrients from different food sources.
---
Cuisine: American
Prep Time: 20 min
Cook Time: 30 minutes
Servings: 4 people